These terms will govern any orders placed with Branded Matter; therefore we encourage you to read these terms before placing your order. By submitting an order to Branded Matter, you (the customer) are hereby agreeing to all the terms and conditions as set forth below. This agreement is in lieu of a written consent, and will be binding by the both the customer and/or their representative(s).
Conditions of Use
All materials contained on this site are the copyrighted property of Branded Matter. You may view and download materials from this site for your personal or internal business use only. Reproducing, re-publishing, uploading, posting, transmitting, modifying, re-distributing or publicly displaying materials from this site to entities outside your own company requires written permission from Branded Matter. By using the Branded Matter site you agree to indemnify Branded Matter, its officers, directors, employees, successors, agents, distributors and affiliates for any and all claims, damages, losses and causes of action (including attorney fees) arising out of or relating to any information on our site or your use of the site.
The Information We Collect
During the course of your shopping experience, we collect personal information required to process orders such as your name, company name and shipping information. Shipping information is never given to any other company except as required for shipping purposes. Your email address is required as a login name and is used to send information about your orders. We may occasionally send you e-mail promotions (no more than once a month). If you do not wish to receive these e-mails you may unsubscribe. We will never sell the information you provide us for any reason. Cookies: Cookies are small pieces of information stored on your computer. They allow our web site to track the computers accessing our site and what they are doing. This information is required for the shopping cart to store items as you browse. Cookies do not contain any personal information about you.
Misprints or Errors on Our Website
We endeavor to provide current, accurate information. Nevertheless, errors and misprints may occur. Accordingly, we reserve the right to reject, correct, cancel or terminate any order for which the price was incorrectly displayed or where we otherwise displayed erroneous or inaccurate information. Branded Matter reserves this right whether or not the order has been confirmed and your credit card charged. To provide you with a credit, where applicable, is our only obligation. If your order is cancelled and your credit card has already been charged, we will issue a credit to your credit card account in the amount of the charge. Individual bank policies dictate when the amount is credited to your account.
Payment and Confirmation
Payment: Unless a purchase order has been approved by Branded Matter ahead of placing an order, payment is due in full prior to commencement of production. Credit card authorization and address verification must be received prior to processing the order form.
Confirmation: You will receive an order confirmation via email shortly after an order is placed. For your convenience, an estimated delivery date will also appear on the order confirmation. Please go over the confirmation very carefully to ensure that all the information is accurate. Corrections may be submitted by replying to this confirmation. If you do not receive your emailed confirmation, please email us at service@brandedmatter.ca
Deliveries to Hospitals, Hotels and Colleges
When delivering to these types of addresses, we guarantee delivery to the mailroom or receiving department at the location. It is then the responsibility of this department to deliver the package to the correct recipient.
Production Times
Production times shown are an approximation. Often items will arrive ahead of schedule. If you have a required in hands date, please make sure to let us know so we can be sure to meet it. Otherwise, delivery will be based on our current production schedule. We use the best method possible to ensure your order arrives when you need it.
Free Shipping
Free shipping is available to most of Canada as per the map below. If you are in the Yukon, the Northwest Territories or Nunavut please call for shipping costs and estimated shipping times, please note that shipping times (after production) to these provinces can range form 10 to 18 days, depending on specific location. Canceling or changing your address may affect free shipping availability. Free shipping is valid on first ship-to address only. "Split-ships" may incur additional shipping and handling fees. At this time we are not able to ship to P.O. boxes or ship weekend delivery. We are not responsible for delays in carrier shipment which are beyond our control, such as weather, aircraft or vehicle breakdowns, FedEx facility mis-sorts, no one available to recieve the package upon delivery, stolen packages left with signature waived, etc. Please check all of your addresses carefully as we can not be responsible for deliveries for which we are given an incorrect address.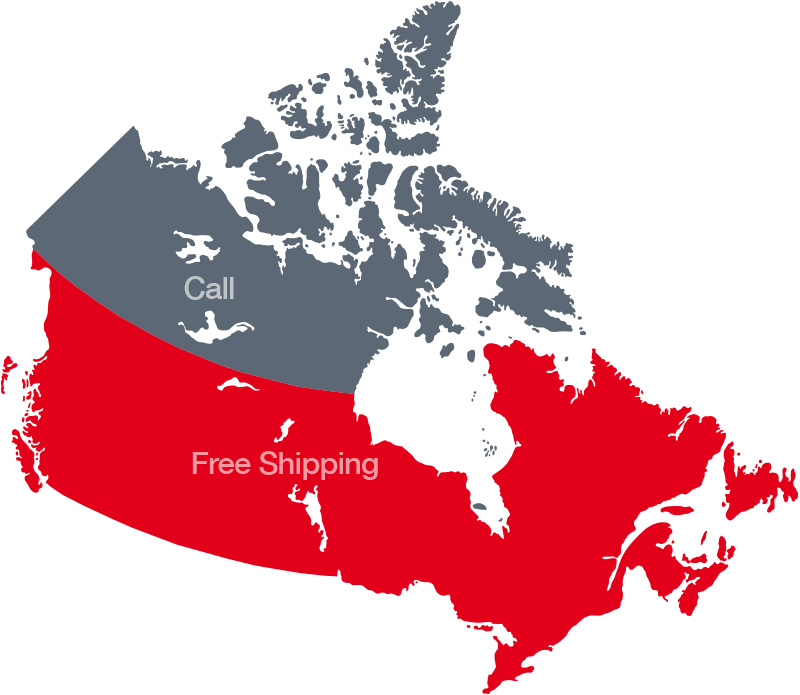 Return Policy
Each order is prepared and created especially for you. Merchandise supplied which is without defect, and is customized in accordance with it's proof, is not returnable. If there is a problem, we will, however, do everything in our power to assist in correcting the situation.
Terms and conditions are subject to change at the discretion of Branded Matter. If you have questions about our terms and conditions, please contact us at 877.870.8146 or service@brandedmatter.ca.
WE LOOK FORWARD TO ASSISTING YOU
The Branded Matter Team